Data recovery from standard media with a capacity of 2GB or less.
Monolithic media must be quoted
Data recovery from standard media with a capacity between 4GB and 16GB
Monolithic media must be quoted
Data recovery from standard media with a capacity of 32GB
Monolithic media must be quoted
Data recovery from standard media with a capacity of 64GB.
Monolithic media must be quoted
Recover My Flash Drive specializes in recovering data from all flash drives regardless of brand or model. We began recovering data from flash drives in 2007 and have become one of the leading data recovery labs for flash drives in the United States. We specialize in everything from broken connectors to unrecognized drives, even monolithic flash drives. We often recover data from flash drives that other companies say is lost.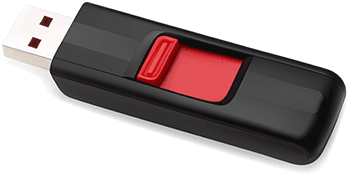 Free Shipping
98% Success Rate
Flat rate pricing
Free Next Day Service
No Diagnostic or Parts Fees
Unmatched Service
Unlike other companies we don't charge a fee if we're unsuccessful. We also pay for both inbound and outbound shipping because we're confident we can recover your data. Over eight years we've built the skills and tools needed to give us one of the highest success rates in the industry. We don't have any hidden diagnostic or parts fees. For standard flash drives we charge a flat rate regardless of what's wrong, for monolithic flash drives we quote the job first. Getting your data back to you FAST is important. We're able to complete most recoveries on the same or next day.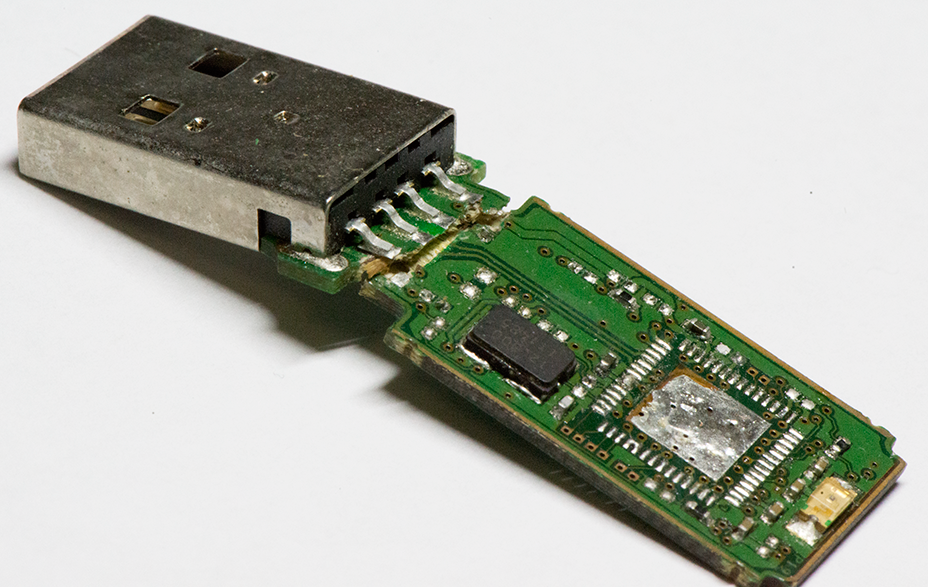 Broken Connectors
When a flash drive is bumped or bent it can break off the silver USB connector and damage the circuit board. Without the proper tools and experience further damage can be done to the drive making recovery difficult or impossible. For more information on broken connectors read our article on broken sandisk cruzer connectors.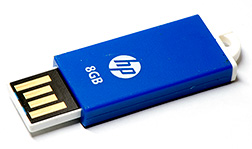 What does it mean if I have a Monolithic flash drive?
Monolithic flash drives are an all-in-one flash memory chip. Unlike a traditional flash drive that has different components which can be serviced a monolithic flash drive is one large microchip. Monolithic flash drives require very specialized skills and tools to work on which is why we need to quote the job first. Check out our article on how to tell if you have a monolithic drive for more information.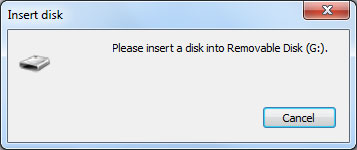 What does "Please Insert Disk Into Removable Disk" mean?
This means the software controlling your flash drive has become corrupt. There are no free or paid utilities to recover your data. The only way to recover your data is by reading the data in the memory chip. For more information see our article on Flash Drive says "Please insert a disk into Removable Disk."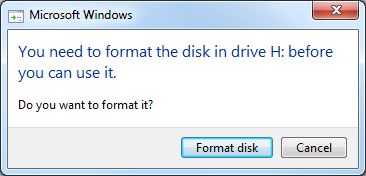 Can you recover Format Disk errors?
DON'T click format disk!! We can recover the data if there is still data on the flash drive.

Can you recover dead or unresponsive flash drives?
Yes, this can be damage to the circuit board, a bad controller or corrupt controller firmware, in very rare cases it can also mean the memory chip failed.
Testimonials
Thank you so much for everything you have done to recover the data off the damaged media I sent to you.
I can not wait to see my parents reaction when I give them their photos they thought were lost for good.
Thanks to you and Recover My Flash Drive they have their photos and memories back.
I certainly will recommend your company in the future to anyone that may think their media is lost for ever.
By far the best service I've EVER received. Your company embodies every customer service detail that I complain is gone from the American business landscape.
My experience using Recover My Flash Drive to recover my data from a damaged flash drive, on a scale of 1 to 10, was a 12! They did everything they promised.
This correspondence is to extend my sincere gratitude to you and Recover My Flash Drive. It was a pleasure to work with you. Your rapid response and level of professionalism made a stressful situation hopeful and possible due your skill for repair. I will always be in your gratitude and always eager to spread the word of your successful work.
How do I send you a job?
Click here to send us a job. Fill out your information and it will automatically generate a shipping label. Put the media and work order in a bubble mailer or padded envelope and ship it to us. Packages generally take three to four days to reach us, if you want your data sooner we suggest shipping it USPS Express Mail, UPS or FedEx. Please DON'T use a regular paper envelope, the sorting machines at the post office will shred through them.
What's your turnaround time?
Once we receive your media typically same or next day however in some difficult cases it may take longer. If you are in a rush, please send us an email and we will do our best to prioritize your job.
How much does it cost?
Click here to look at our pricing. We don't charge diagnostic fees and our price includes shipping, labor and a flash drive that we copy your recovered data on to.
What if you can't recover the data?
We mail the media back to you for free (USA only). There is no diagnostic charge.